The Personal, Private, High Resolution (800×600) Video Display!
Imagine watching the latest movies on a large 80″ Screen from 5′ away on a device that weighs only 2.0 ounces – the i-Cine Hi-Res. The i-Cine Hi-Res (High Resolution) is the ideal solution for any video application. Play the latest games on your Playstation 3, X-Box 360 or Nintendo Wii in style. The i-Cine Hi-Res will also connect directly to an iPod Video, iPod touch or iPhone 3G.
Spouse trying to sleep and you want to watch TV? Watch TV in your own private movie theater without disturbing your significant other! Wear it anytime, anywhere, sitting or lying down, enjoy the large, vibrant picture and pure portability! The small size and portability of the glasses make them ideal for Mobile Entertainment and Information Applications. Unlike bulky Virtual Reality Headsets, the i-Cine Hi-Res weighs only two ounces, are fully adjustable, lightweight and comfortable.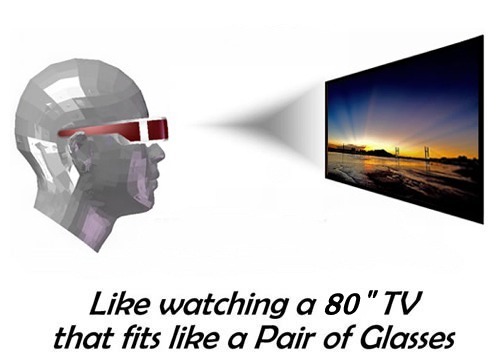 Features:
Unique optics design for safe and comfortable use
Auto change between NTSC/PAL signals
Integrated stereo ear buds
Can be used while wearing prescription eye wear
Direct connection to iPod Video, iPod touch or iPhone 3G – just plug and play
Compatible with devices with an AV output such as Cable Boxes, DVD players, etc…
Works with PlayStation3, Xbox 360 and Nintendo Wii
Battery can be FULLY charged within 2 hours via USB
Specifications:
Resolution: 800 x 600
Virtual Image Size: 80″ at 5′
Field of View: 35 degrees
Input Signal: NTSC/PAL Video
IPD Adjustments: None Required
Eye Relief: 25MM
Weight: 2.0 oz.
Supplied Accessories:
Built-in Battery
Eye Cups
AV Audio/Video Cable
iPod Video, iPod touch, iPhone 3G Audio/Video Cable
USB Charger
AC Adapter
Manufactured, Trademarked and Warranted by Virtual Realities, Inc.
The i-Cine Hi-Res is available only through Virtual Realities, Inc. and will not be sold or warranted through any other site.
Customer Feedback:
"I purchased the i-Cine Hi-Res. Upon powering them up and trying them on I was blown away. The fit was comfortable and light weight, the picture quality was sharp, and the colors were vibrant. The sound was great, and the volume can reach a level that i have to turn it down, and anyone in my family would tell you that is amazing. All around the sales staff are extremely friendly and helpful, and the i-Cine Hi-Res glasses are a great buy!" "
-Peter Rossignol
 November Sale! Free Portable DVD Player with Purchase!!!
First published on vrealities.com.
---
---